The last time I checked, baseball games weren't won in December, January or February. They aren't won in spring training or by preseason polls or predictions. For the St. Louis Cardinals, a challenge from a divisional rival is not only expected but necessary.
When you are the Cardinals, things don't go according to plan but you deal with it because the General Manager plans on disruption, chaos and misfortune. No matter what was thrown at the Cardinals in 2015, they endured and won 100 games and the division. Their luck ran out but a message was preserved. Trouble may find them, but their shape moving forward won't bend too much or break. The Cardinals are resilient.
Let's go over some facts before I break into some subjective prose.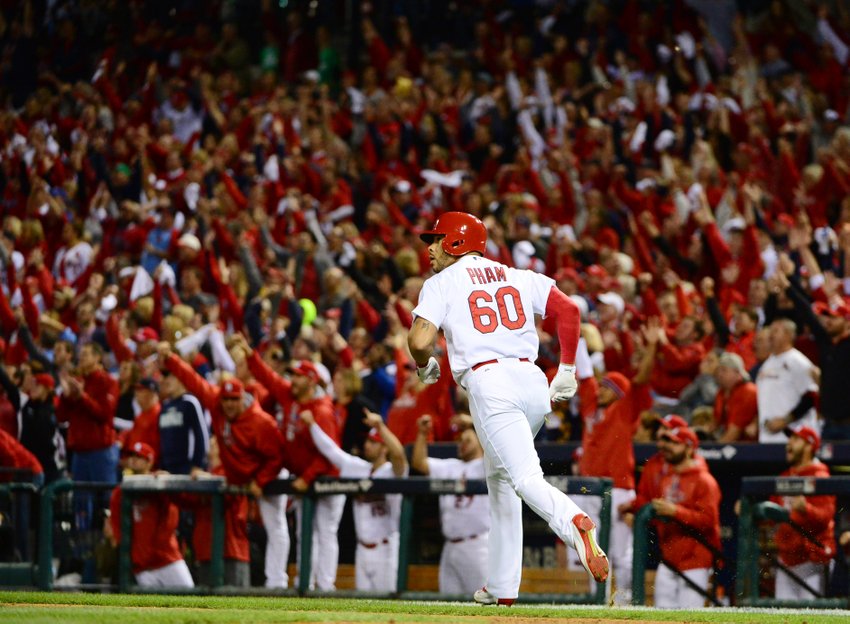 Since 2000, the Cardinals have made the playoffs 12 times. That's 12 times in 15 tries.
They have made the playoffs five straight seasons, including three straight division titles. I can't tell you the last time the Cubs, Pirates, Brewers or Cubs did that. That is because they never did. The Cardinals are the team to chase. Nothing has changed.
A man named Adam Wainwright is returning in 2016 after nearly a whole season of rest. He has averaged 210 innings, 16 wins, and 177 strikeouts since 2007. I'm sorry Jake Arrieta but that's a lot better than a couple season run.
A man named Matt Holliday is returning with full health. He's angry about that 2015 season. The 73 games played were the lowest amount of his career by 48 games. People forget that he averaged 140 games per season in his time with the Cardinals and averaged an .884 OPS in those seven seasons. Forget about it, right? One injury plagued season means this bearded hulk is closing up shop. Wrong. Holliday isn't going to have a ridiculous year in 2016(sorry Mr. Matheny) but he is going to bounce right back to his 2012-14 ways. He's angry.
Yadier Molina won a gold glove last year and hasn't played healthy(two freak thumb injuries) in the past two playoffs but according to some, he is close to the baseball electric chair. Right? When he crotches behind home plate this season, he'll have two healthy thumbs, rested knees and a hunger to reclaim some glory at the plate. He'll also collect his ninth gold glove.
They are respectively, 34, 36 and 34 years old. Yeah, scratch them because of their birth certificate.People get so fed up with the "aging core" nonsense and I revel in it. So do the Cardinals. Kolten Wong wants to silence the doubters, the ones in Chicago and the ones in his own psyche biting at him after a weak second half. What does Jhonny Peralta have left in the tank as he nears the end of his contract? The best all around hitter, Matt Carpenter, doesn't get a lot of credit for his 2015 season, one that rivaled departed right(center?) fielder Jason Heyward.
The Cubs don't scare me. One great season doesn't make a team powerful. In case you didn't noticed, the Cubs wasted all their wins on the Cards in October because they were blown away by the New York Mets. The Cubs are built with flashy parts. Ben Zobrist and John Lackey are older. How will their bodies hold up? What will Lackey do now that he can't start at Busch Stadium every other week? Can Heyward win a gold glove in center field? Can Kyle Schwarber stop looking like Chris Duncan in left field? How many times will Kris Bryant strike out? Will Jake Arrieta's arm fall off? Will Jon Lester earn that BIG contract? Who is closing games down there? Dexter Fowler is back but is that really an upgrade?
Last time I checked, the Cubs have as many question marks as the Cardinals. Can they play good enough defense and pitch well enough to keep up with the Cardinals? Will their bats be enough? What if injuries strike? The 2015 Cubs didn't face a ton of injuries. Will they have as much resilience and push as the Cards did last season? You can't buy toughness. It shows or it fades. What the Cubs lack is consistency, which is something the Cards have in spades.
2016 holds no clear division front runner. The Cards, Cubs and Pirates will be in it while the Reds and Brewers eat popcorn(lots of it). There will be ups, downs and lots of alcohol consumption and heartache. Trevor Rosenthal will blow a save. Matt Holliday's blistering grounders will find a glove. Randal Grichuk will be fooled by pitchers. Stephen Piscotty won't turn into an MVP candidate. Matt Carpenter won't hit 28 home runs again. Then again, maybe Brandon Moss will recover some dignity from seasons past. Maybe Tommy Pham will stay healthy long enough to show off those new contacts.
The Cardinals rotation and bullpen is better than the Cubs today. The Cubs can hit a lot better but the margin isn't as large as some think. In 2015, the Cubs averaged 4.25 runs per game. The Cards averaged 3.99 runs per game. 2016 is going to be interesting.
Sorry Chicago Cubs fans. The division isn't won in February. It's won in October. The Cardinals still own the Central. Let the games begin!